Description
Girls' Jumper or Tunic, Bell-Bottom Pants and Mini-Pantskirt: The sleeveless and collarless jumper or tunic with low "V" shaped neckline may be trimmed with braid or top-stitching. The jumper has patch pockets. The tunic may be worn with a purchased belt slipped thru thread carriers below normal waistline. The bell-bottom pants and the mini-pantskirt without waistband have side zipper. The pants have turn back cuffs. The mini-pantskirt may be worn with or without front and back panels buttoned to pants.
Knits for the Kids…How they Look the Best – Knits call for a styline all thier own, and here are the best of the bunch for the school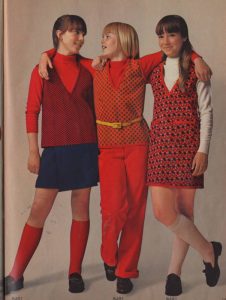 -girl crowd: the long pullover as a jumper, with pants and over a scooter skirt (a mini pantskirt).
Simplicity 8481
Size: 8
Breast: 27
Waist: 23 1/2
Hip: 28
Copyright: 1969
This pattern is partially cut and is complete. The envelope has tattering.